Kushikatsu Dinner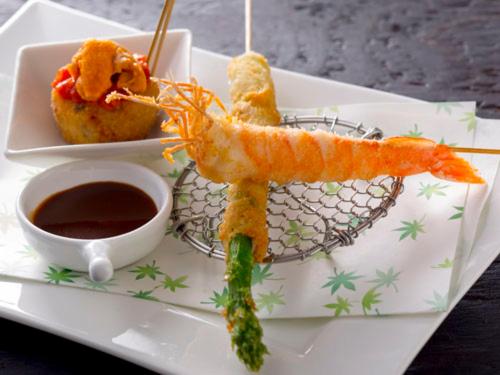 Delicious and Healthy! KUSHI Dinner
Special Offer JPY 5,000
MENU
Appetizer
8 kinds of Kushi
Special "Konnyaku" Noodles
Sweets
Place: Kushi Katsu & Wine - MIKAN 3F
Dinner Time: 5:00p.m.-9:00p.m.
Price: Special Price JPY5,000
For Reservations from the guestroom, Dial 9.

Tax & 10%service charge will be added to your bill(unless otherwise noted).
Please inform us if you have any food allergies or special preferences.
Menu is subject to change due to availability.
Special Offer is not applicable during certain Japanese holidays, and also when special events beforehand.
Actual presentation of menu items may differ from the photos.
This offer is by reservation only. Please note that it will not be applicable when requested after dining.
Please inform us your use of "Special Offer for Staying Guests" together with your name and room number.
Special Offer may not be combined with other discounts / offers.
Kushi katsu ( Deep fried meat and vegetable on skewers ) Iincludes chicken and pork as well as seasonal vegetables and seafood. They are affixed on bamboo kushi (skewers) and deep-fried in vegetable oil until done. Foods prepared this way are most delicious when eaten hot from the pan.