May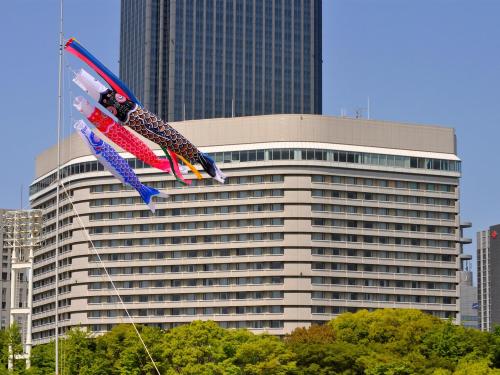 TANGO NO SEKKU
Date : May 5
TANGONOSEKKU is a traditional Japanese event observed on May 5th as a celebration for boys.
On that day, people eat KASHIWA-MOCHI (sweet Japanese rice cake wrapped by oak leaves) and CHIMAKI (rice balls wrapped by bamboo leaves).
Many Japanese people take baths with SHOUBU (Japanese iris) floating on the water.
Hotel New Otani Osaka displays gorgeous Japanese armor (YOROI KABUTO) in the lobby and a carp streamer (KOINOBORI) outside the hotel.
Carps that streams up the river are believed as a symbol of success and the armor to protect the life of boys.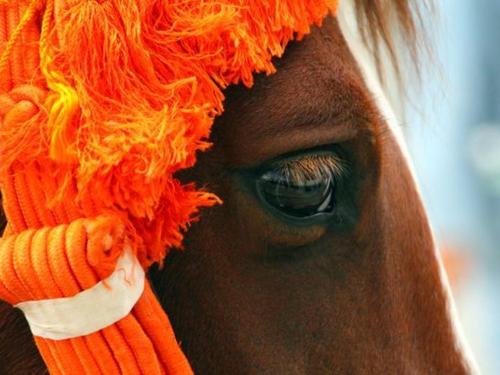 YABUSAME SHINJI
Date : May 5
Place : Shimogamo Shrine , Kyoto
Time : 1:00p.m.-
Admission fee : free of charge
YABUSAME is a traditional 'horseback archery' performed from the ancient times.
Archers wear the Japanese aristocrat in style of 1000 years ago and shoot arrows while riding horses running at full speed.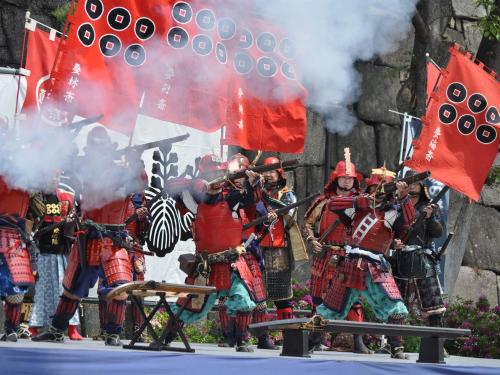 OSAKA CASTLE FAMILY FESTIVAL
Date : May 3 - May 5,       11:00a.m. - 4:00p.m.
Place : Osaka Castle Park, Osaka
Admission fee : free of charge
Various family entertainment, for example, fire gun shooting demonstration, hawking, samurai - ninjya experience. (event may be changed without prior notice)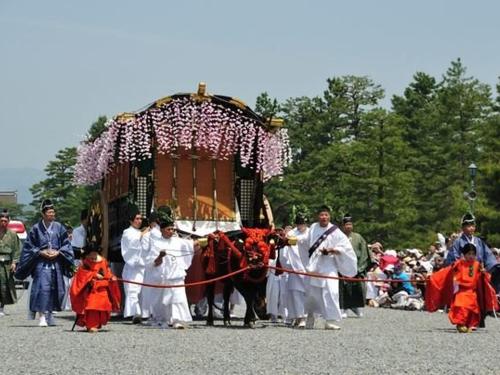 AOI MATSURI FESTIVAL
Date : May 15,
Place : Kamigamo Shrine ,
Shimogamo Shrine ,
    Kyoto Imperial Palace , Kyoto
Time : 10:30a.m. - 3:30p.m.
Admission fee : free of charge (special area requires a fee)
Aoi Matsuri (Hollyhock Festival) is a festival of Shimogamo and Kamigamo Shrines in Kyoto.
One of Kyoto's most well-known festivals re-creates the Imperial family's processional visits to shrines in the days of yore, in a parade of magnificently dressed participants.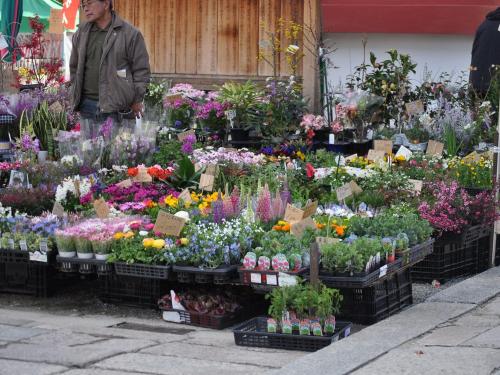 SHITENNOJI FLEA MARKET
Date : 21st and 22nd of every month
Place : Shitennoji Temple, Osaka
Time : 8:30a.m. - 4:00p.m.
Admission fee : free of charge
Shitennoji temple is the oldest Buddhist temple, built in Japan over 1,400 years ago.
A flea market has been held on the 21st and 22nd of every month for the last 200 years.
A lot of Osaka food that you can find here, such as Takoyaki, Yakitori, Okonomiyaki, flower shop and many more.
A walk through the market is always an interesting experience.