Chinese Cuisine Taikan En
Chinese Cuisine from Shanghai

In the elegance of the TAIKAN EN restaurant's modern black interior setting, Master Chef Cai Qun Lin creates for you a unique culinary experience comprising the most tantalizing offerings from among both the traditional and the latest trends in Chinese cuisine. Chinese noodle soup of the delicately thin noodles and shredded shark's fin with chicken based broth is ideal for a late-evening snack.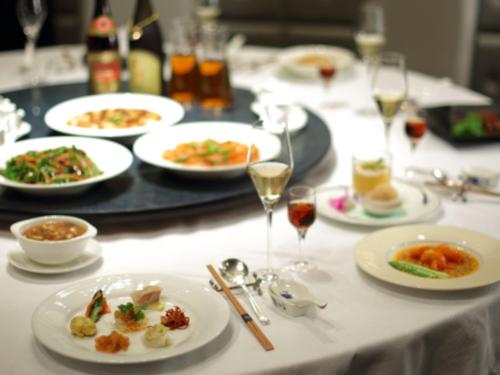 Hours
Lunch: 11:30a.m. - 2:30p.m.
Dinner: 5:00p.m. - 9:30p.m.
Contacts
Tel. +81 (0)6-6949-3215
E-mail: osk-rm@newotani.co.jp
Seats 108
Private Rooms 4 rooms
(6 - 20 persons)
Location 3F
French Cuisine SAKURA
Hotel's Main Dining

Savor sensational French cooking prepared by the talented chef Nagai at SAKURA restaurant located on top of the hotel. French dining SAKURA uses the highest quality of Japanese ingredients to create dishes which preserve the taste of genuine French cuisine.
Hours
Lunch: 11:30a.m.-2:30p.m.
Dinner: 5:00p.m.-9:00p.m. (Reservations up to the previous day.)
Close on Mondays
Contacts
Tel. +81 (0)6-6949-3246
E-mail: osk-rm@newotani.co.jp
Seats 66
Private Room 2 (6-12persons)
Age requirement 7 years of age
Location 18F Top of the hotel
Nice View of Osaka Castle